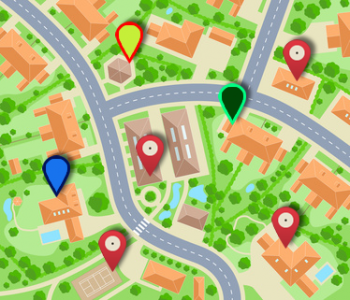 Why would you need internet marketing for your local business?
internet marketing for your local business
on SF Bay Area FM 92.3, BayVoice.net
Based on Google's statistic report, 20% of searches on Google are related to location
It's much easier for people to locate information through internet searches, rather than using yellow pages or by driving around.
People prefer to survey service providers over the web, as opposed to going store to store to shop for one.
Back in Feb 2011, we heard that smartphones (mobile devices) now surpass PCs in sales. Its growing trend is definite. One of the major features of the smartphone is Location Based Information, which lists local service providers in real time. As a local service vendor, you want to not just be part of it. You wish to stand out from others.
Most service vendors offering personal support are local services–to name a few–real estate agents, tax preparers, family doctors, dentists, auto repairing, restaurants, laundromats, hotels, shuttle buses, etc.
DCS has successfully provided service of internet marketing for local service vendors.  We would like to share a few tips:
1. When structuring the website content, we ask that the client initially prepare for geographical-sensitive information and update it on a consistent basis.
— The basics for all local service vendors include
a.) A Map and Direction page with detailed descriptions of how to get to your office through at least two routes.
b.) A listing of available public transportation systems nearby (bus, BART, Train, or Light-rail)
Different type of service will provide specific contents:
— If you are in Hotel, Shuttle Bus services: Prepare local major landmark contents for travelers or travel planners. For example, if your hotel is near San Francisco Golden Gate Bridge, mention in the website the hotel's proximity to the Golden Gate. Also recommend a route full of exciting tourist spots and attractions.
— If you are a real estate agent/team: Statistics tell that over 75% of home-buyers determine their home location based on School/School district performance. You could bring up-to-date info or aggregated links of School API reports, school/district boundaries, address/school look-up of the area of your focus. People (and the search engine) will consider you the destination site. Moreover, including a blog to consistenly discuss present housing market trends, average home prices, and days-on-the-market will capture potential customers in the area.
2.  Take advantage of FREE Internet Business Listing Services
In a sense, it's yellow pages on the internet, but their presentation and user experience are entirely different.  To name a few:
When using the above internet business listing services, it is critical to complete these steps:
Fill in the exact address, phone number(s), service items, service hours, and acceptable payments
Submit pictures of your store and services
After the info has been posted,  do ask your customer to add rating and comments to it
Prepare for negative comments.  Do not panic.  It will be overwritten by others.
From personal experience, in terms of web search-based local business marketing,  YELP.com and Google for Business delivered the most effective results.
This video explains how YELP earned its reputation and became a strong leader in the marketplace.  In addition, this video explain how to create your business listing on YELP.
3.  How Google approached this demand and how to create your listing on Google Places:
Google adjusted its name (and business strategy) from Google Local to Google Places in early 2010.  It is now divided into two sections:
a.) Google Places for Business (GP4B) ( google.com/placesforbusiness)
b.) Google Places (designed for consumers as a social media approach, which could be part of the Google Plus toolset)
Certain Marketing Specialists can help you create GP4B listings charging $150 to $200 per month .
In a few days, we will publish a tutorial of how to establish and maintain your business presence in Google Web Search and Google Map Search.
Please submit you question if you see any issue in this posting.
Please subscribe to my newsletter, if you would like receive more discussion on similar subject.
Or, Call DCS : Alex Hu (408) 929-4888