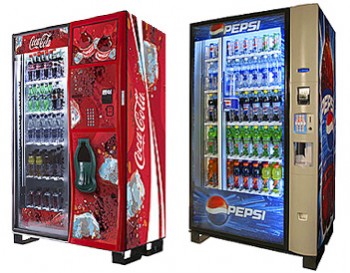 We are used to seeing vending machines in the cafeteria or in the hallway of office buildings.   It is the vendor's privilege to set up these cash collectors, providing a convenient buying process with the right items and selling them to ready-to-buy shoppers within seconds time.
From that idea, in terms of a business-to-business (B2B) model, we suggest setting up a supplier store for your corporation clients.   With internet access and user authentication feature, the internal store can be interpreted as a broader sense, and not limited to a office LAN, or WAN.  And, thanks to internet, the supplier store can readily serve the corporation with branch offices and franchising networks nationwide.
Since 2008, DCS has delivered internet-based B2B online supplier stores for 3 of their clients, providing items or services.  Each client needs only one store admin back-end.  Their corporate-labeled supplier stores can be unlimited.  From the admin back-end, our client is able to set up a new store in minutes, as long as they are accepted as the supplier–exclusive or not–of the business corporate.
DCS was founded in 2001 and began using X-cart as its e-Commerce engine since 2004.   We choose to use X-cart–in particular, the x-cart GOLD version–as the base to initiate development.   Because X-cart PRO is designed for the Shopping Mall business model, it is more limiting than convenient for the idea of B2B supplier store.
| | | |
| --- | --- | --- |
| Requirement of Corporate Supplier Store | DCS Customization from X-cart GOLD | X-cart PRO |
| Private labeling | Displays the corporate logo, business name, and contact info in each supplier store and all pages in that store | Uniform page header and footer at any category or item page |
| Display specific categories | Whether the shopper is logged in or not, the store front only displays categories and supplied items for the corporate account | Categories are mixed before a shopper logs in |
| Sole provider | Sole provider | PRO has multiple providers in a store.  It's an overkill feature in this application. |
| Payment status & reconcile report | Purchase Order (P.O.) is extremely important in a corporate supplier store. It's necessary both for you and the corporate accounting office to access and generate the real-time report of all POs regarding its shipping and payment status. | n/a |
In the cases that we delivered, we have experienced different demands, such as:
Case 1: A sign store offers the supplier store solutions to real estate franchises.  One of their supplier stores provides brand marketing signs and accessories to 50+ branch offices and over 1500 agents.
Case 2: A brand marketing brokerage.  Their customers are nationwide chain stores.  The supplier store provides the branded store furniture and wall decoration to customer's offices and store located nationwide.
Case 3: A Dry Clean service provider.  They offer pickup services from their corporate office buildings.   They also offer a variety of ordering process and payment options based on the customer's location or company.
Our DCS development team is ready to adapt to any demands that cater to your specific condition.  Please feel free to contact us
by phone: 408-929-4888
or online