Search engine optimization (SEO) is the last mile, the critical bridge, between businesses and their targeted customers.   With the huge amount of new web content appearing on the internet every day, a website undiscovered is a website wasted.
DCS Production believes that the SEO strategy should be well planned from initiation– an embedded component in its website design.  Successfully established SEO brings benefits:
Website owners will not have to worry about whether their website contents can be located in the search results of search engines such as Google or Bing, and many other SEs.
The site's organic ranking (search engine results ranking without pay for it) will improve over time.
With SEO website structure built,  the posting of new website content will guarantee more frequent appearance in search engine results.
In 2008, DCS production rebuilt the website of eCharterBus, a tour and transportation service provider based on San Francisco.  Since then, eCharterBus has received consistent Internet leads from its online inquiry form.
The Conversion Funnel calculation determines the success of a SEO campaign:
Number of visitors to the website *
conversion rate (%) of visitors who sent in inquiries *
conversion rate (%) of service providers successfully nailing the deals
Feedback from the client reveals that they are confident in their conversion rate as a small-scale website and company.   They were most interested in the improvement of their organic ranking, i.e. more presence, and higher ranking.  Also, they hoped to get their website ready before investing in Google AdWords.
Our client first provided a list of what they can offer in group transportation and revealed where their competitive strength lies. DCS Production researched search engine behavior and tested from real search results.
We generated a huge pool of optimized keywords from all aspects of group transportation.  With the material ready, DCS copywriters wrote the service description page in 15 subsets.  We confirmed with the client that this method provides the best and most accurate web presentation of eChartBus.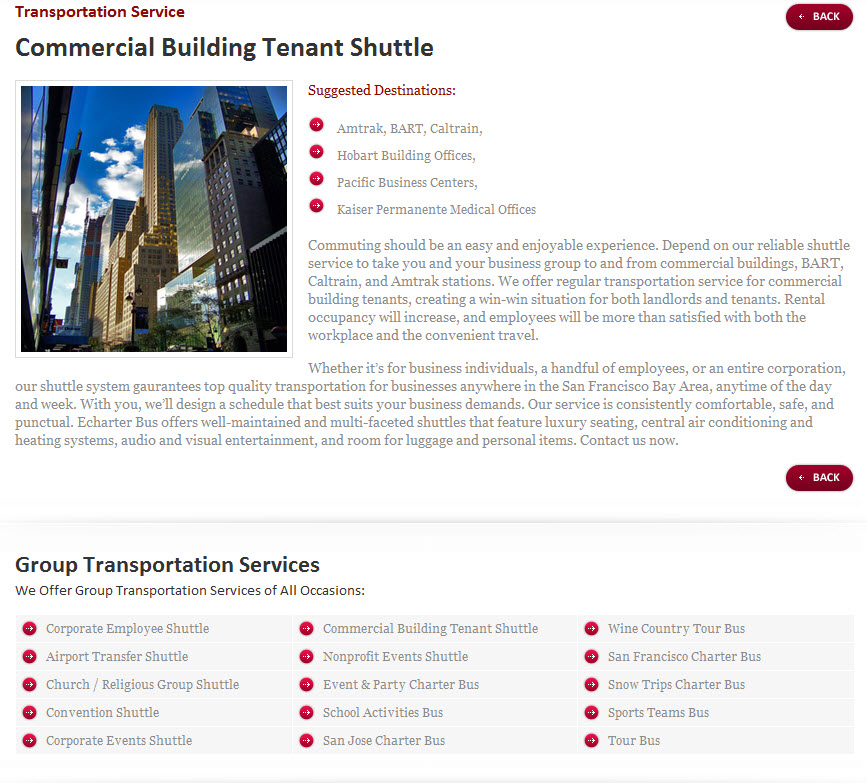 Publishing these newly SEO-based pages is not the last step.  Adjustment and tracking is the 2nd part of the task.  We will cover more details in a few months.