DCS supports Five Branches University in implementing a web-based CRM of its Prospective Student Recruiting function in all departments. Even though FBU is a school, its demand equals that of any business organization.
We have identified the project objectives:
Integrated Prospective Info Depot
Improved Leads qualification
Faster Response times
Traceable prospective activity
Email reminders for due activities
For this project, we converted thousands of legacy records from many local computers to a cloud-based storage. Also, we facilitated an accurate, scheduled response process that allows all inquiries to respond by the  next work day. Lastly, we offered a series of training videos that explain and demonstrate CRM–how to process customer leads and develop valuable, long-term relationships with them.
Major Steps:
Step 1: A staging site converts prospective leads of all origins to the standard CONTACT format (Lead Card in CRM)
Prospectives students come from a variety of resources: website inquiry forms, office visits/calls, campus tours,  emails to advisors, referrals from vendors, and school events/seminar participation.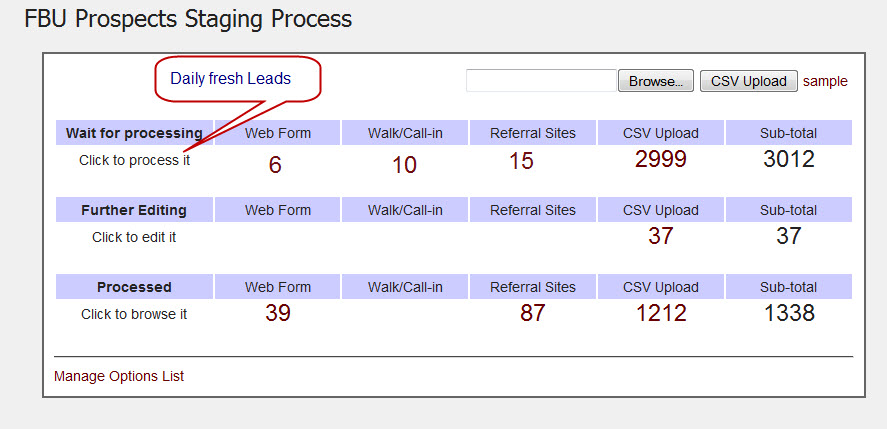 Step 2: We define schedules and resources to process the inquiries timely and accurately
Step 3:  Daily email alerts announce:
Prospective assignments to each department
Updates in contact information and changes in status and activity.
Marketing campaign activities and events
Step 4:  Marketing departments and individual academic departments process their personal and automated follow-up processes (Leads nurturing).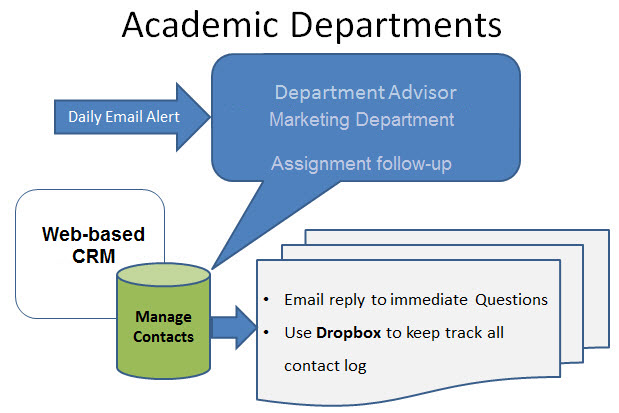 Step 5: All staff members learn their roles through a series of video tutorials